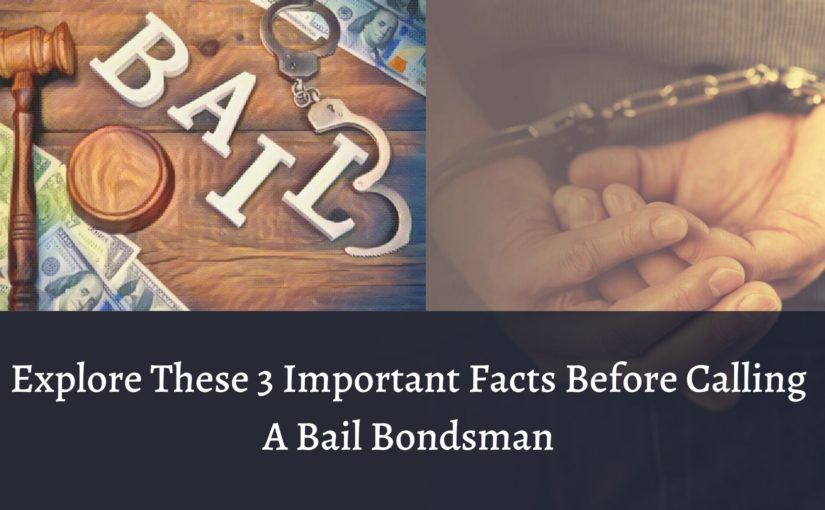 Having to get a near and dear one out of prison can be an uncomfortable experience. This is mainly true when you are unknown with bail bonds and the whole procedure. Family and Friends may suggest that you get in touch with a bail bondsman.
Should you call them? If so what you need to know prior to getting in touch with them?
First of all, it is significant to know some basic factors before you call a bail bondsman. This is going to help you feel comfortable during the whole procedure of getting your family member or friend out of jail.
These are a few very significant factors that will help you know about bail bonds and the liability you will take prior to calling a bail bondsman.
Fact 1: Bail bonds are actually loans
When an individual is under arrest, they are instantly located in jail. Then they will have to wait until their bail hearing that is when the judge of a court sets the bail amount. That amount of the bail has to be paid if the individual under arrest is to be free from jail. If the bail is not paid, then that individual will need to stay in prison until their hearing in the court. The amount of the bail will be returned only if the defendant comes for all dates in the court.
When you contact bail bondsmen what you are looking for is a bail bond that's basically a short-term loan that bail bondsmen pay to the court on behalf of you so that the accused can be released.
Like other loans, there's a fee. This fee can vary from state-to-state. That charge is non-refundable.
Fact 2: You're finally accountable for the accused coming to court
It's significant to know that if you decide to sign a bail bond for your family member or friend, you're concurrent to take the financial liability if they do not show up to court.
For instance, the judge fixes bail at $5,000. If the accused shows up to court dates, you'll have to pay 10%-15% of the fee only for the bail bond.
If the accused doesn't come to court, you will have to pay the full amount.
That's where you'll require making your own decision call on if you must bail them or not.
Fact 3: Have the correct Information
They're different things you'll require knowing prior to contacting a bail bondsmen. Firstly, you'll have to know the person's name who got arrested and where he/she is now. If you're the person who's in jail, you'll know this information.
However, if you're a family member or friend is arrested, ensure you have the right information.
After that, you have to discover the charges and the booking number of the person under arrest. If you are uncertain of these facts, you can get the information from where the person is kept.
The final thought
So, you now know which facts you've to keep in mind while hiring a bail bondsman. Now, you have to choose the right bail bondsman for you. As there're several amateur persons out there, be careful while choosing your bail bondsman.