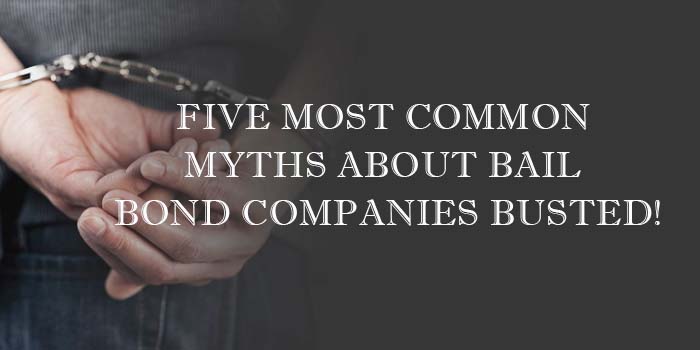 Posted on
September 8, 2021
Whether you, a friend, or a loved one has been under arrest, it's significant to appoint a bail bondsman. A bail bondsman will create a bond or will guarantee personally that a person will come on their court date.
A bail bondsman will file the necessary official documents, offer money for the bail, and conduct other correlated lawful matters so the time in jail becomes short. However, like other jobs, bail bondsmen get a bad rap. There're several misconceptions and myths that go with their work, including the following.
Myth #1: Bail bond companies don't even care for their clients
Bail bond agencies do care about the clients they deal with. They'll do everything to help their clients to get out of jail as quickly as possible. So, if something happens while an accused is out on bail, the bail bonds company should be called first.
Myth #2: A bail bondsman charges unexpected or more fees
This myth is totally bogus. A bail bondsman doesn't charge additional fees or unexpected fees. Once the accused attends all their court dates and there're no other problems like bond reinstatements or forfeitures, then there's no other amount charged.
Myth #3: The bail bond industry isn't regulated at all
The media may portray the industry of bail bond as shady and make people believe that it's not regulated. However, this isn't the case. Bail bond companies and bail bondsmen are requisite to follow federal and state regulations. They should be correctly licensed and should meet certain education, training requirements and age before providing bonds.
Myth #4: A bail bondsman can negotiate costs of the bail
It's a regrettable factor that bail bond companies can't negotiate to lower the amount of bail. The amount of bail is fixed by the judge according to how severe the offense is, and other some lawful considerations. It's uncommon for judges to lower the bail amount once it's set, so there's no negotiating.
Myth #5: Bail bond companies make shady deals
Bail bond agencies often are showed as the bad persons in movies who raid houses and deceive their victims. However, genuinely, that's totally different. Bail bond companies are a vital part of the system of justice. They assist accused persons who can't afford their bail amount and who want to save their money and time.
The final thought
Bail bondsmen are your best friends when a near and dear one is arrested. So, don't let these myths ruin your trust. Contact a reputed bail bond company if you're in need.